Board of Directors
Pam Tidwell – Board Chair
 As a lifelong resident of Nashville Davidson County, Pam spent many years in private business and civic leadership.  She has owned business in various retail and service industries, while serving on boards representing business, arts, preservation, education and civic initiatives.  Pam moved to Sumner County several years ago where she has free-lanced on various projects and actively seeks new opportunities to serve in Sumner County. We are so grateful for Pam's service at Grace Place.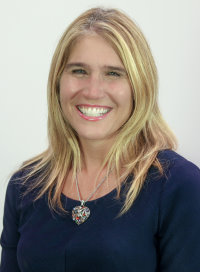 Lisa Millman – Board Treasurer
Lisa is President of Millman CPA Strategic Solutions, PC. Lisa has a passion for providing services to nonprofit organizations as part of her CPA practice. She also gives back to the community by volunteering her time to worthwhile organizations that are making an impact on lives of people. Her past community roles have included serving as V.P. of Finance and Treasurer for the Junior League of Nashville, board member for the White House Area Chamber of Commerce and All About Women, President and co-chair of the PTO at her children's schools. She served six years on the Tennessee State Board of Accountancy and was appointed the first female Alderman of the City of White House.
Lisa is married to Rob, has three children and one granddaughter. She enjoys running, traveling, reading and living every day as an adventure. She is a member of Long Hollow Baptist Church.
Serving on the board of Grace Place allows Lisa to fulfill her calling by God to help women going through difficult times and provide professional accounting services to Grace Place. 
Becky Beeler – Board Secretary
Becky, originally from Atlanta, Ga., has been a resident of Hendersonville for over 22 years. She was a medical employee benefits underwriter and marketer for 18 years, responsible for profit and sales. She left the insurance market to work at her church for 5 years, the first 2 ½ years in the business office and the next 2 ½ years in Caring Ministries. She was a Stephen Minister for 7 years giving one to one confidential care for those going through difficult times and then 4 years as a Stephen Leader training Stephen Ministers. She now works as a patient advocate helping those who have low incomes and no insurance, to obtain medications at no or little cost, and also works part time for her husband, Bill.   Becky also volunteers at her church working with senior adults and notifies church members of daily prayer requests through e-mail.
Becky has a heart for those in need and is excited to participate in the ministry of Grace Place while serving as Board Secretary.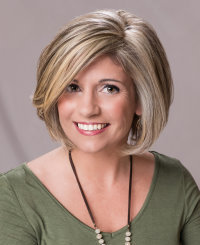 Desneige VanCleve – Founder & Executive Director GPM
Desneige has a background in small business marketing, a college degree in Christian Ministry from Trevecca Nazarene University, and worked as the Benevolence Coordinator for Long Hollow Baptist Church before organizing and opening Grace Place. She attributes her time on staff at Long Hollow Baptist Church as a time of major revelation, refinement, and preparation to do what she confidently refers to as "God's Will for her life."
Now, in the daily operations of Grace Place, she strives to show the love of Christ to each woman and child by offering guidance, support, and numerous types of training to help fulfill the mission of Grace Place.
Her hobbies include reading, learning, and cooking. Her passions include Jesus, laughter, and people. When she's not serving the families at Grace Place, you will find her at her husband's side along with their three children doing life together in what she refers to as "beautiful chaos all the time."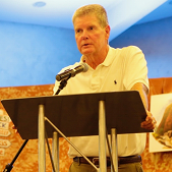 Eddie Phillips – Co-Founder
Eddie Phillips graduated from the University of Tennessee. For 34 years he managed Phillips Builders and served as President for 14 of those years. In 2004, he became Chairman of E. Phillips Development, a position he continues to fill now. Eddie is the proud husband to JB Phillips of 47 years. He's the father of three sons, Randall, Jason, and Charlie who all combined have given him eight grandchildren. His hobbies include golf, scuba diving, snow skiing and hiking. Eddie serves on the board of the Memorial Foundation and Welcome Home Ministries. He is also a founder of 4:13 Strong. He loves helping and encouraging people who are hurting and in need. We are grateful to have Mr. Phillips on the board of Grace Place.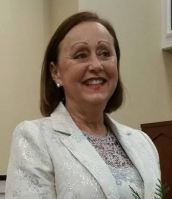 Susan Garrett
Susan Garrett is a proud wife, mother of 3, and grandmother of 7.
She has devoted many years of service in various organizations because she understands the value of a volunteer. Some of her experience includes founding the Memorial Garden at the Goodlettsville Public Library, serving as a choir director for children and adults at Goodlettsville First Baptist Church, serving on the Board of the Goodlettsville Chamber of Commerce, a founding member of the Mansker Players and Bowen Campbell House, volunteering at Beech schools and Good Pasture Christian school, volunteering at the Memorial Hospital, fundraising for Vanderbilt Children's Hospital, and board secretary for the Goodlettsville Women's Club.
If you ask her why she serves on the board of Grace Place, she'll quickly tell you that she loves being a part of something that is right here in her community meeting a local need.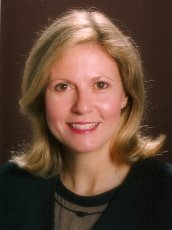 Beth Little
As a Hendersonville native, Beth Little has watched her hometown grow from a one traffic light village into a vibrant city by the lake.  Her childhood was filled with family, church, school activities, friends, sports, Girl Scouts and civic involvement.  After graduating from Hendersonville High School, she earned a bachelor's degree from East Tennessee State University.  She counts herself very fortunate to have had the opportunity to raise her two children in Hendersonville, and she was actively immersed in their full and busy lives. For many years during their childhood she served on the working board of the Hendersonville Arts Council and participated in numerous American Cancer Society Relay for Life events.  At Hendersonville First United Methodist Church she served on the Building Committee during two campaigns, the Missions Committee, and the Children First Daycare Committee.  She also worked with the FUMC Youth Program and, as a long term commitment, served on the Altar Guild. Beth currently serves on the Board of Directors of The Memorial Foundation, Inc., a position she has held since 2001.
Beth enjoys staying active with her husband, family and friends, and she strives to create something beautiful each day through creative problem solving. Beth is honored to be involved with Grace Place and believes that recognizing and providing for the needs of citizens in crisis is the hallmark of a caring, successful community.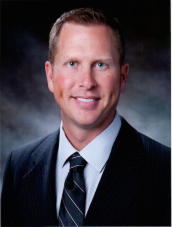 Charlie Phillips
Charlie graduated from Belmont University with a degree in History. He worked as a teacher for a while, and then became involved in the family business in many different roles. From owning his own company, to partnering with his brothers in Phillips Builders, and then eventually selling the company to Meritage Homes Company, Charlie is a well-known name in the building industry.
Having lived in Goodlettsville, TN his whole life, Charlie is firmly planted here with his wife and two daughters. When asked why he wants to serve on the Board of Grace Place he responds, "With the shortfall of meeting the needs of families experiencing homelessness in Middle TN, it is obvious there is a need for Grace Place. My family is blessed to be a part of such a powerful and meaningful ministry."