Grace Place is a ministry that serves single mothers and their children who are experiencing homelessness.
We are located in Hendersonville, TN.
Our Mission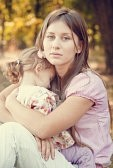 To empower impoverished single mothers and their children toward developing healthy, safe, and independent lives in the local community.
Did you know that 10% of Hendersonville lives in poverty? The vast majority of this 10% are single mothers and children struggling for stability and survival.
Today's homeless single mother is 27 years old. She has 2 or 3 children all preschool age and younger. She has suffered from serious abuse, often times in many different forms. If employed her income is low and she is at high risk for homelessness at the first sign of financial struggle. The impact is intergenerational. Her and her children are disconnected from family and friends, and have experienced loss of significant proportions. They are alone, scared, and hurting. - The National Center on Family Homelessness
Grace Place seeks to bridge the gap between existing community resources and fill an enormous need for shelter and ongoing case management for these struggling families.
Above all, Grace Place is a place of sanctuary, opportunity, and hope.
"And now these three remain: faith, hope and love. But the greatest of these is love." 1 Cor 13:13.